Prompt-
Leave behind the age old romantic notions. Flaunt your wild persona in a blog post and write about your craziest expressions of love.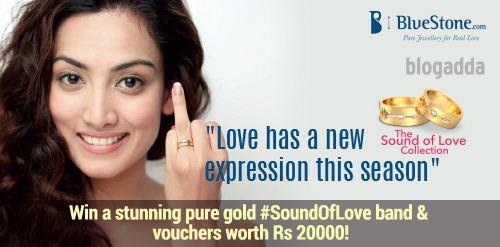 I guess love has always been being portrayed with the help of the same ingredients- guitar, chocolates, horse-driven carriages, heart-shaped balloons, candies and what-not! My idea for love and its expression is a bit different. I see giant hoardings with the L-word written along with flying hearts and cupid and I can only cringe.
I think love is much more humbler than these expressions. Love does make you want to scream from the rooftops but not literally. It makes you tell people that you've found someone and you're happy. It happens within your everyday routine. You become a nicer person. You greet people with a smile, you feel nicer from the inside.
So for me, a crazy expression of love would be a celebration of all those fine changes in my personality. It will be about that one person so, of course, it will revolve around her. But there will be no horse-driven carriages or moonlit dinners. Instead, it would just be me, trying to be my best so that she has an idea what effect she has caused.
I would have tickets to her favourite holiday destination delivered to her as a wake up surprise in the morning. And then the rest of the day would be just me leaving notes for her. She'd find me waiting whenever she turns around. It will be a perfect day where she knows that someone is watching her, protecting her, loving her.
I would not overdo the mush. We will talk like friends. We will pull each others' leg and annoy each other. Love is not a one-sided surrender. It is a mingling of souls. So, for me, a wild expression would involve spending a day with my loved one. Cosy mornings, lazy afternoons, shiny evenings and a promise to keep it that way forever in the night before sleeping. I think that's how it is done.
For me, that promise is the biggest expression of love.