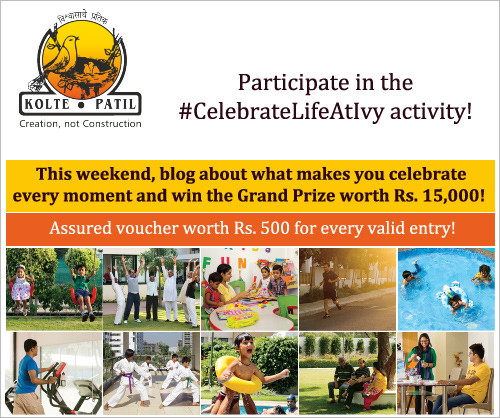 #CelebrateLifeAtIvy by owning a dream home at Ivy estate, an 85 acre estate with 34 acres of greenery and open spaces. Join the 1600 happy families already living here. Check out this walkthrough video and decide for yourself.
A good life is one filled with celebrations. You cannot keep living without being thankful to all that you're getting in life. And once there is an opportunity for a celebration, you mustn't let it go. There are many things in life that make it worthy of celebrations and here I would like to list a few out. Just see if in your checklist, these things exist or not-
1. Good friends
A good life needs to have friends in plenty. Because, in words of the legendary Barney Stinson from the popular TV series, How I Met Your Mother, 'No moments in your life are awesome if you don't have your friends to share them with.'
If you have good company, every moment can be a celebration. Every place is the right place and every way leads to the fun alley.
2. Money
Yes, money can't buy happiness but, it can buy everything else which comes pretty close to happiness. If you have enough money, you can celebrate without worries.
3. Good books.
Now those are the real treasure troves. They are your best companions and can enrich your life to no limits. It is indeed a cause for a happy life if you're surrounded by good, useful knowledge.
4. Happy family
One's family's happiness is an important life goal. If they are happy, a big part of your worries is taken away.
5. A good home
A good house where you can relax and work at your own pace. A place which you can proudly call yours- is an indispensable ingredient to a happy life.
6. A good ride
A ride of choice is nowadays a necessity. It reflects not only your personality but also shows the amount of elegance and power you wield. It can be a cruiser bike, a sports bike or a sedan, but it is needed.
7. A perfect partner
Life is incomplete without true love. Poems and ballads have been written on it, can't stress it enough,
8. Good food
All your money goes to waste if it can't extinguish the fire in your belly. Good food is like God talking to you. Food is as spiritual an experience as any other.
9. Adequate leisure time
The mind needs to indulge but, it also needs to unwind. A time to just lie with a book on a beach on a summer evening is also required from time to time.
10. Inner peace
All these things are just the fireworks needed for life's celebrations. The ignition or fire is provided only by your inner happiness. If one is content and happy from the inside, it shows.